It seems a bit harsh to be saying this, but I don't trust anyone who publicises the donation of money. Not to say there is anything wrong with having money, or giving it away, so long as the recipient is happy to receive it, and the giver isn't about to launch an attack on the fabric of our natural environment.
The issue I have is when the giver wants everyone to know about it.
There is a well known Jewish concept called tzedakah, which roughly translates as "charity". The 12th Century Jewish philosopher Maimonides, formalised tzedakah into 8 levels, each subsequent level being less righteous than the previous one. Taken in a secular sense they are as follows:
1. Giving a poor person work so he will not have to depend on charity
2. Giving charity anonymously to an unknown recipient
3. Giving it anonymously to a known recipient
4. Giving it to an unknown recipient
5. Giving it before being asked
6. Giving adequately after being asked
7. Giving willingly, but inadequately
8. Giving unwillingly
As a key facet of Jewish tradition, obviously charity has a long and often noble history. Philanthropy is defined as "charitable giving", but the philanthropy we are most familiar with is that which links the giver of, often large sums of, money to the charitable cause. This is excellently described in Joseph Epstein's article on celebrity giving, which notably exposes the link between giving and publicity. Epstein hints that such philanthropy doesn't even lie on Maimonides' scale; I would go further as to say that such "philanthropy" isn't charity at all.
Some of the most famous historical philanthropy took root in the world of the Victorian workhouses and mills of northern England. Such luminaries as Joseph Rowntree, Titus Salt and Lord Leverhulme, created communities and charitable institutions from the profits of their extremely successful businesses. In Victorian times, amongst the working classes, places like Saltaire and Port Sunlight would have seemed like manna from heaven, and there is little to suggest that the founders wanted more than a happy, educated and hopefully more productive workforce; maybe with a little religion thrown in.
But you know those names already, don't you? Would you have remembered their names had they not been those of noted philanthropists. Look them up on Wikipedia; the word "philanthropist" jumps out at you.
That's not to say their work was not welcome, but let's fast forward to the early 21st Century and see what we have now; the era of the industrial billionaire philanthropist – the mega-giver.
· In 2005, the Bill and Melinda Gates Foundation gave away $1.36 billion. All of the donations were heavily publicised on the Foundation's web site.
· In 2006, the Bill and Melinda Gates Foundation received $10 billion from Warren Buffett. This was in the form of shares in Berkshire Hathaway Inc, a group of companies that sell car insurance, investments and luxury goods.
· This same organisation's shares were also given to four members of Warren Buffett's family for their own charitable trusts.
Following these links leads to an extremely disturbing phrase from Warren Buffett to his relatives : "Conversely, avoid making small contributions to the multitude of worthwhile activities that have many possible funders and that would likely proceed without your help."
Is he suggesting that small donations along with many others would not provide the necessary publicity to promote the Buffett's business interests?
And then Richard Branson came along, with his "Environmental Windfall" of $3 billion, and a promise to clean up global transport, particularly air travel. And the environmental press went wild with enthusiasm…almost.
Some of us were more suspicious. The dream of cutting 25% of the carbon dioxide from an industry that is growing by around 5% a year is a wonderfully spun PR stunt. If we take aircraft carbon emissions as 2% of the global total in 2000, which works out as 30 million tonnes, let's see what happens when we go to 2050.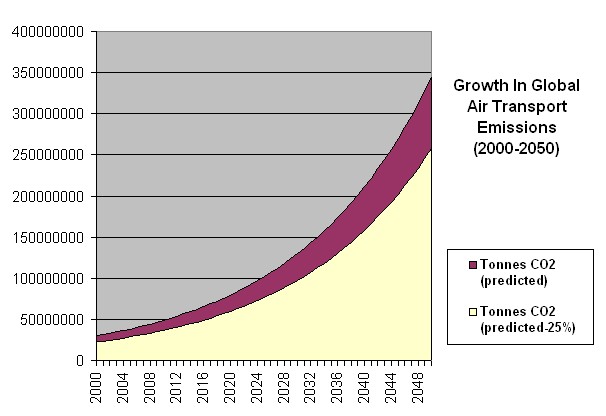 A simple graph comparing the growth in air transport at the current rate to the growth with 25% shaved off, according to Branson's dream, shows that the current 30 million tonnes CO2 in 2000, increases to around 344 million tonnes in 2005. Wow, we need to do something about this.
Let's take 25% off, by persuading the air industry to fly cleaner aircraft and more efficient routes. There, see, we've reduced this to only 258 million tonnes; a mere 860% more than we started with. A big pat on the back for our environmental hero.
And let's see where the money is going, bearing in mind that you cannot run aircraft on biofuels. Yes, it's in biofuels, the new growth industry for the discerning agribaron who wants to strip the natural world of biodiversity and supply our ever-growing thirst for energy.
Which makes all this charity giving look slightly less charitable than the givers would have us believe. In Maimonides' scale there is no place for the mega-giver; the giver knows where the money is going, the receiver knows where it has come from, and the "philanthropy" is merely a way of increasing business. Any person who has made enough money and fame for themselves that they cannot avoid making a huge splash in the media would do well to follow the lessons of Mr X, the anonymous, extremely rich, extremely famous donor, who's charitable donations to the Y Foundation are making this world a better place for us all.
And the best thing of all is that he doesn't even want to make a penny out of it.